NEW ZEALAND WOMEN VS SOUTH AFRICA WOMEN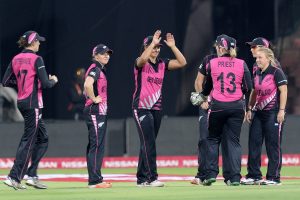 ICC Women's World Cup, 6th Match: New Zealand Women v South Africa Women at Derby, Jun 28, 2017
WORLD CUP
28:06:2017

::::

02:30:pm


NEW ZEALAND WOMEN
                  VS
SOUTH AFRICA WOMEN

MATCH:WIN
NEW ZEALAND WOMEN

 Toss delayed due to rain
 New Zealand Women Team
SW Bates*, EM Bermingham, SFM Devine, ML Green, HR Huddleston, LM Kasperek, AC Kerr, KJ Martin, TMM Newton, KT Perkins, AM Peterson, RH Priest†, HM Rowe, AE Satterthwaite, LMM Tahuhu
South Africa Women Team
T Chetty†, M Daniels, N de Klerk, M du Preez, S Ismail, M Kapp, A Khaka, M Klaas, L Lee, S Luus, R Ntozakhe, A Steyn, CL Tryon, D van Niekerk*, L Wolvaardt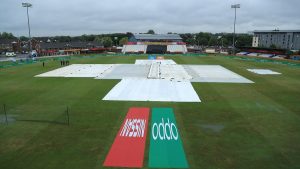 10.40am More rains and little respite at Derby at the moment. Looks like it's going to be a while before we can get to the toss.
Simon Roche: "In response to Naveen Sangwan, what more can we expect! We have enjoyed our summer in the last week or so, back to the usual now. I think the English summer is due to fall on a Wednesday next year."
Madhu: "What does White Ferns mean?" That's the nickname New Zealand Cricket use for their women's team, just as they call their men Black Caps.
Kaushik: "Come on shouldn't be raining I was looking forward to this game after my day has been spent in a Twitter banter on Kohli-Kumble controversy!!" How about now burning some fuel on this quiz on the stars featuring in this World Cup?
10.15am While it continues to rain, here is Mark Nicholas on how a competitive world cup will spread women's cricket further.
Naveen sangwan: "What's wrong with this weather in UK? Does it rain 24×7? We need to see some cricket going without any interruption of any kind. First CT and now WWC. "
Hussain: "3:53pm local time?" — Yes, indeed. I'm afraid it's going to be that kind of a day. "No play likely before lunch time," is the latest tweet from White Ferns
10.02am The toss should have happened by now. However, it is not to be. The hover cover, and the additional covers are on. There are also big puddles around them. To add to it, certain patches in the outfield appear squishy. The forecast for the rest of the day does not seem promising.
It's very unlikely there'll be play before an hour or more. The latest the game can start, for a 20-over shootout, is 3.53pm
9.50am Gloomy update from Nottingham Road. It's been raining since morning. Cricket South Africa has tweeted "Bad news from Derby, rain pouring steadily and doesn't look to be abating anytime soon."
9.30am Good morning, everyone. Two teams that opened their campaigns with contrasting wins clash today. While New Zealand sauntered home in the tournament opener, South Africa unravelledspectacularly before huffing and puffing to victory. Bates led the way for New Zealand with an excellent hundred. How about another hundred to celebrate her 100th ODI? Drum rolls, please. She is set to become only the eighth New Zealand woman to reach the landmark. Here's what Bates said ahead of the big occasion.
New Zealand Women Squad / Players
Age: 29 years 242 daysBatting: Right-hand batBowling: Right-arm medium

Age: 30 years 221 daysBatting: Left-hand batBowling: Right-arm offbreak

Age: 29 years 28 daysBatting: Right-hand batBowling: Legbreak

Age: 27 years 257 daysBatting: Right-hand batBowling: Right-arm medium

Age: 24 years 208 daysBatting: Right-hand batBowling: Right-arm offbreak

Age: 29 years 217 daysBatting: Right-hand batBowling: Right-arm medium-fast

Age: 25 years 90 daysBatting: Right-hand batBowling: Right-arm offbreak

Age: 16 years 215 daysPlaying role: BowlerBatting: Right-hand batBowling: Legbreak

Age: 32 years 98 daysBatting: Right-hand bat

Age: 21 years 347 daysBatting: Right-hand batBowling: Right-arm medium

Age: 28 years 313 daysBatting: Right-hand batBowling: Right-arm medium

Age: 26 years 246 daysBatting: Right-hand batBowling: Right-arm offbreak

Age: 31 years 337 daysBatting: Right-hand bat

Age: 20 years 225 daysBatting: Right-hand batBowling: Right-arm medium

Age: 26 years 235 daysBatting: Right-hand batBowling: Right-arm medium-fast

South Africa Women Squad / Players

Age: 24 years 9 daysBatting: Right-hand batBowling: Legbreak

Age: 28 years 331 daysPlaying role: Wicketkeeper batsmanBatting: Right-hand bat

Age: 27 years 111 daysBatting: Left-hand batBowling: Left-arm medium

Age: 17 years 127 daysBatting: Right-hand batBowling: Right-arm medium

Age: 27 years 344 daysPlaying role: Top-order batsmanBatting: Right-hand bat

Age: 28 years 230 daysBatting: Left-hand batBowling: Right-arm fast-medium

Age: 27 years 139 daysBatting: Right-hand batBowling: Right-arm medium

Age: 24 years 309 daysBatting: Right-hand batBowling: Right-arm medium

Age: 26 years 109 daysBatting: Right-hand batBowling: Right-arm medium

Age: 25 years 51 daysBatting: Right-hand batBowling: Right-arm medium-fast

Age: 21 years 138 daysBatting: Right-hand batBowling: Legbreak

Age: 20 years 175 daysBatting: Right-hand batBowling: Right-arm offbreak

Age: 20 years 181 daysBatting: Right-hand batBowling: Right-arm medium-fast

Age: 23 years 118 daysBatting: Right-hand batBowling: Left-arm medium-fast

Age: 18 years 27 daysBatting: Right-hand bat